Get SpotOn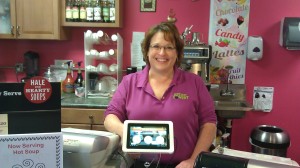 Ready to sign up?  $70.00 monthly – First Month FREE – Order Now! Pay only $19.95 for shipping. Equipment to buy, we provide it all. Want more info call Gary Cooper at 609 384 4881 or order below.
Please tell us a little about your business.
What You Get
Tablet and unlimited loyalty cards
Customized rewards program that fits your business
HotSpot, our one-of-a-kind software that lets you target who you reward
What You Avoid
Messing with your existing POS system or service
Buying expensive punch cards, additional hardware or software
Transaction fees
Click to Order SpotOn! We will call after you get signed up. You May Call Gary J.Cooper 609 384 4881
Some of our newest SpotOn family members might look a little familiar to you. Check out some of the famous treats customers can now pick up with their SpotOn card.
The Slaw Dogs

What do you get when you put leftover thai coleslaw on a hot dog?
A taste sensation – and a feature on Food Network's Outrageous Food!
That's exactly what happened when Ray Byrne of southern California turned some leftovers from a backyard BBQ into the concept for his unique restaurant, The Slaw Dogs.
His SpotOn customers can take advantage of the 53 quintillion (really) combinations of hot dogs and toppings, as well as redeem points earned for free combos or the famous TNTsuper dog– a 12″ dog loaded with chili, cheese, bacon, pastrami, fries, grilled onion, fried egg, and wrapped in giant tortilla. Hot dog!
Sugar Bakery and Sweet Shop
What does one bring into battle for a cupcake war?
One SpotOn business owner has the answer. Brenda, owner of Sugar Bakery and Sweet Shop was the winning cake baker of Season 2 of Food Network's Cupcake Wars.
Now that the "battle" is over and Brenda isn't furiously frosting to impress judges on TV, she's back in East Haven, CT serving up creations like Sweet Potato Cider Cupcakes.
Sugar recently began a SpotOn Rewards program, allowing cupcake addicts and customers to take home one of Brenda's award-winning cupcakes with just 6 SpotOn check-ins.
Click to Order SpotOn! We will call after you get signed up. You May Call Gary J.Cooper 609 384 4881